Narcissus
The narcissus flowers are very easy and rewarding spring flowering plants that, just like perennials, automatically return every year. The narcissus is often the first sign of spring. Those who think there are only yellow daffodils, are wrong. There are white daffodils, cream and with a pink or orange trumpet. There are single and double narcissus. Some narcissus species remain low and give small flowers and others are longer and give very large flowers. From most narcissus grow several flowers that spread a wonderful scent. So joyfull!
Narcissus or daffodil bulbs?
Narcissus and daffodil bulbs are about the same. Some call them daffodil and some narcissus. Narcissus is the Latin name for daffodil flowers. Daffodil is the name for all members that fall under the genus narcissus. Daffodils are also called "Lent lily".
A lot of people think that narcisses and joquils are the same. This is actually not true, jonquils indicate one type of narcissus. Jonquils are high perfumed, while narcissus flowers are softly scented.
Narcissus and daffadil bulbs are for sale from July 1st until December 1st at FAMFlowerFarm.
History of the narcissus flower
Narcissus or daffodil flowers are native to the Mediterranean area, Asia and China. The species that are most common grew in North America. They were bought by the early colonists in Europe.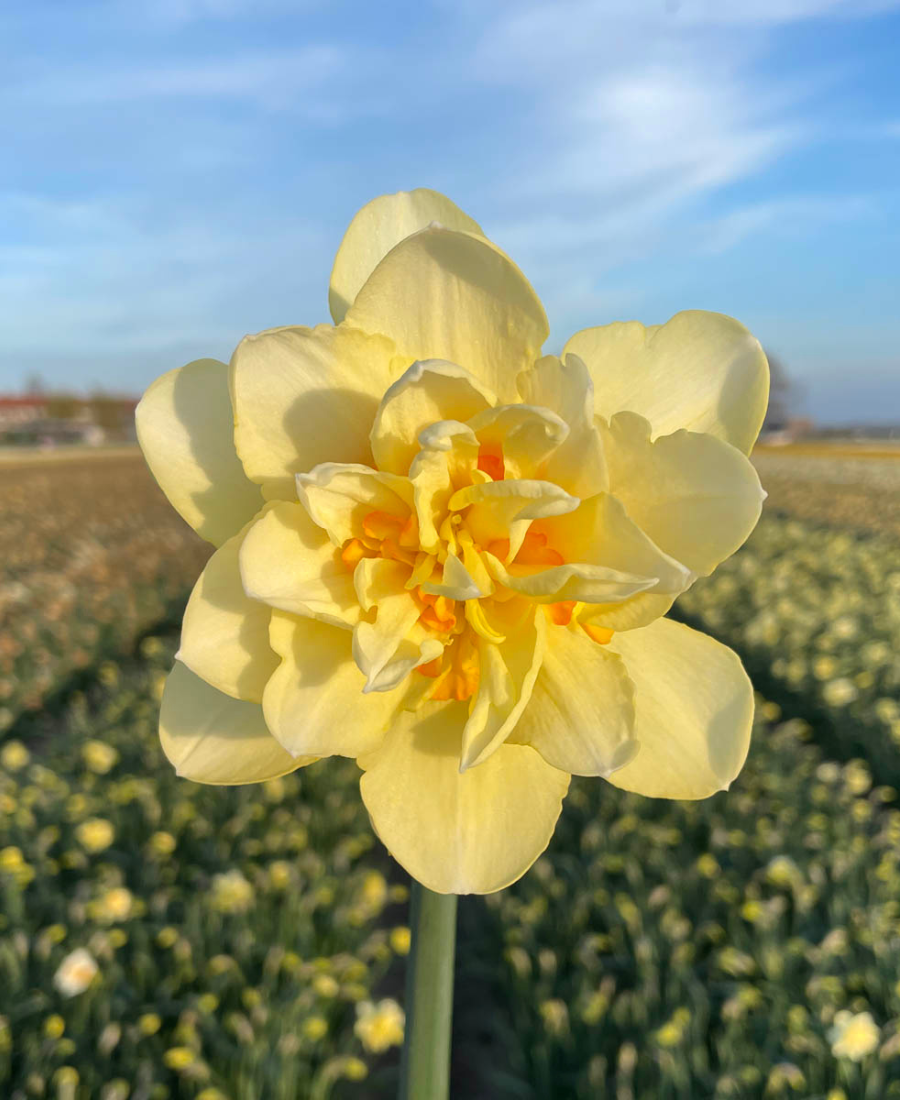 When to plant narcissus bulbs?
The narcissus flower needs a period of cold first to be able to bloom. So, plant them in the autumn in the months of October, November or December. You will receive large size bulbs from us so you can expect beautiful bold flowers. Narcissus bloom in the spring, you will smell it! D
Narcissus bulbs, how to plant?
Narcissus or daffodils love the sun. Give them a sunny spot and you can enjoy them again every spring. They do not like wet feet, so make sure the soil is well drained. Loosen the soil a bit and plant the with the tip up. Put some ground over it, press down slightly and done. You can spread the narcissus flowers through the garden for a natural effect or make large groups in beds or plant pots. Of course, we supply an extensive plant instruction with our flower bulbs.
Care of the narcissus
The narcissus needs a little care. If it is dry, water regularly. When they are finished, the leaves become yellow, then the bulbs will develop. Only when the crop has died can you cut off or discard the leaves. In the winter you can simply leave the narcissus (daffodil) bulbs in the ground, cover them with some leaves from the garden.
Some narcissus, you can use to put in a vase in your home. These as cut flowers. You can enjoy them twice as much.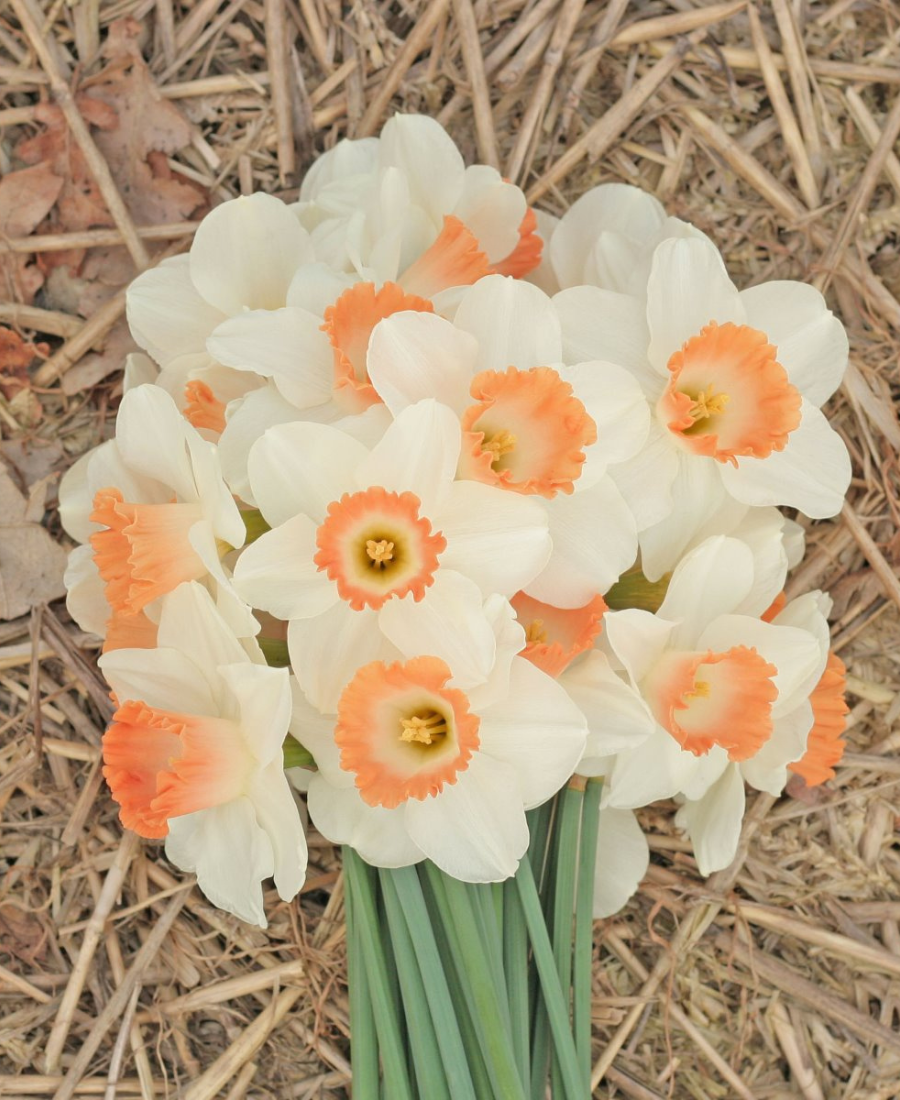 Combinations
Narcissus flowers are beautiful to combine with each other. All the narcissus/ daffodils have a soft colour, so they are all beautiful together. You combine the white daffodils with yellow daffodils, with orange daffodils or pink daffodil flowers. The colours together will have a low contrast and will give your garden a beautiful spring feeling. We also sell a pink narcissus with peachy pink coloured petals.
At the same time as narcissus or daffodil bulbs, you can also plant tulip bulbs. These will flower around April or May. Right after the narcissus or daffodils flower. You can plant more striking colours, to bring summer into your garden. You can plant red tulips or pink tulips for eye-catching garden. Or you can just plant soft colours like white tulips and orange tulips.
Enjoy your garden longer
Around May or June, when the first night of frost is over, you can plant dahlia tubers and flower seeds. The dahlia tubers let your garden stand out. You can plant beautiful colour, as white dahlias or more outstanding colours as red dahlias or purple dahlias. The dahlias will flower in July or August. The flower seeds can flower around the same time, in June, July, August or September. All our flower seeds are annual. Zinnia, phlox, cosmos or delphinium are also a real addition to your garden.
Follow our story
If you follow us on Instagram or Facebook you can follow the story of the narcissus or daffodil bulbs, our farm and the seasons. Enjoy the beautiful flower fields. We also provide handy garden tips and highlight special varieties. On Pinterest you can view beautiful photos of narcissus/ daffodils. You can also pin them on your own board.