Mega mix

Special Price

€44.99

Regular Price

€59.00

Esprit

Special Price

€5.65

Regular Price

€8.49
Tulip bulbs
"Buy tulip bulbs, they give the ideal spring boost. They are sent directly from our farm to your home."
All tulip bulbs are grown in our own farm. You will receive a large size tulip bulb from us so you can expect beautiful full tulip plants. We have different types of tulip bulbs for sale such as single and double tulips, multi-coloured tulips, fringed tulips and even the black tulip. Tulip bulbs give a wonderful spring boost to your garden.
Ordering tulip bulbs
It is very easy to buy tulips for sale by us. You can buy them online. We deliver them by post to your home as soon as it is time to plant the tulip bulbs (from early October to mid-December). Our flower webshop not only contains tulip bulbs, but also narcissus bulbs, dahlia tubers and annual flower seeds. These spring and summer bloomers are the most popular bulbs, tubers and seeds for the garden.
When tulips are on sale?
You can buy tulips from 1st July until early in December. There are tulips for sale at FAM Flower Farm. All tulip bulbs are grown at our farm in Lisse, the Netherlands.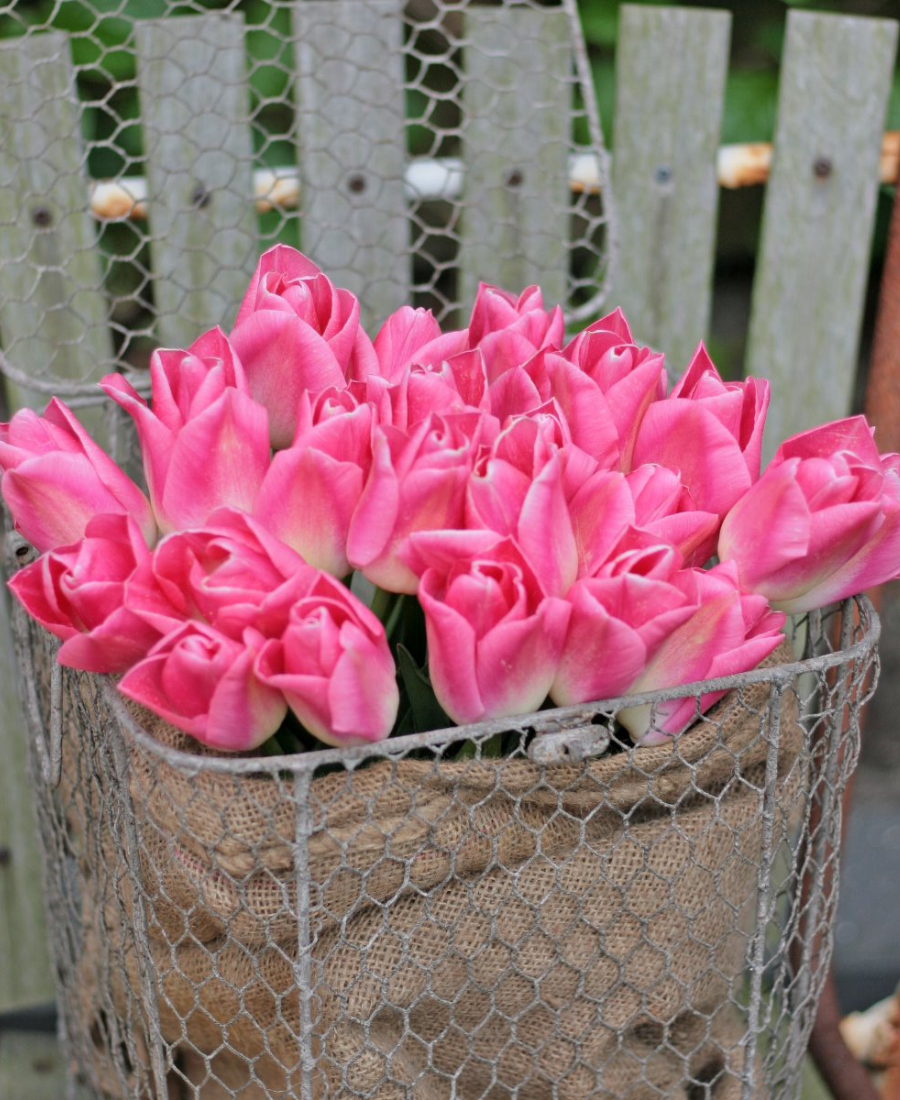 Planting tulip bulbs
Tulip bulbs are planted in autumn, from October to December. All the nutrition is already in the tulip bulb, so it's almost impossible to go wrong. Plant tulip bulbs in groups, in beds or spread out in the border. You can also easily plant the tulip bulbs between your other spring flowers and perennials. This will make you garden look beautiful.
Tulip flowering time
Tulips bloom from April to May. Tulip flower fields are the most popular flower fields in the Netherlands. Tourists therefore go to Lisse from all over the world, to see the beautiful tulip farms.
Tulips in pots
The tulip flower bulbs also do very well in pots. In spring, the tulips come out and you can enjoy your flower garden. Plant lots of them so you can cut some flowers and enjoy them as cut flowers in your home too.

Give your garden a spring boost
After a long winter you long for spring. The pleasant temperatures and the first rays of sunlight already give you that first wonderful feeling of spring. Tulips, of course, complete the spring feeling. You enjoy the tulips blooming all around you.
So don't wait too long and plant the tulip bulbs in your own garden between October and mid-December. Tulip bulbs are for sale in all kinds of colours and shapes. We have as many as 41 different varieties of tulips. Perfect for brightening up your garden and giving your garden the ideal 'spring boost'!
Pink tulips look beautiful together with red tulips or white tulips. This brings romance to your garden. Yellow tulips and orange tulips bring the spring to your garden. You can also choose for a more challenging colour as purple tulips.
Some of the history of tulips
The tulip flower is not originally from the Netherlands but from Turkey. Tulip flowers were first imported in Antwerp in 1562. This was the beginning of European tulip cultivation. The Netherlands excelled in growing the tulip plant because of its ideal climate. The first tulip bulb was planted by Carolus Clusius in Leiden.
In the 17th century (1634-1637), the 'tulip madness' arose in the Netherlands. There was so much demand for tulips that the price skyrocketed considerably. To the point that a tulip bulb had the same value as an Amsterdam canal house!
In 1637, the government ended the tulip craze by restricting trade in tulip plants. During the time of the tulip craze, some people became very rich and many very poor by speculating.
Follow the story of our family farm
Follow the story of our family farm on Instagram and Facebook at FAM Flower Farm. We tell the story of tulips, dahlias, narcissus, flower seeds and our farm. We also give some tips for gardening on Instagram and Facebook. You can also find beautiful pictures of our flowers and farm on Pinterest.